Research Interests
Mating systems of birds
Seabird and marsh bird conservation
The function of bird song
Biology of Odonata (Dragonflies and Damselflies)

Recent and Current Research Projects

Using habitat to predict the distribution of three sparrow species wintering in salt marshes (Kim Trinkle, M.S. student)
Winter site fidelity in saltmarsh sparrrows (Susan Shaw, M.S. student)
Postfledging survival and movements of Least Terns fledged from gravel rooftops (with Alex Kohorst, M.S. student)
Breeding biology of Wilson's Plovers (Kerri Dikun, M.S. Student)
For a slideshow (by student Katie Copenhaver) of a morning of sparrow fieldwork, click here.
Biological Science I, Biology 121
Biological Science II, Biology 122
Animal Behavior, Biology 436
Molecular Techniques in Biology , Biology 451
Ornithology, Biology 461
Graduate Seminar, CMWS 697/698
Publications

Hill CE, Ackay C, Campbell SE, Beecher MD (2011) Extrapair paternity, song, and genetic quality in song sparrows. Behavioral Ecology 22:73-81 .pdf
Hill CE (2010) First record of California gull (Larus californicus) for South Carolina. Chat 74: 102-103. .pdf
Hill CE, Marshall T, Allen WB (2010) First specimen of arctic tern (Sterna paradisaea) for South Carolina. Chat 74: 40-43.
Hill CE, Gjerdrum C, Elphick CS (2010) Extreme levels of multiple mating characterize the mating system of the saltmarsh sparrow Ammodramus caudacutus. Auk 127: 300-307..pdf
Press:BBC
Hartford Courant (with unfortunate headline)
Discovery News (Video!)
CCU
Hill CE, Tomko S, Hagen C, Schable N, Glenn T (2008) Novel microsatellite markers for the saltmarsh sharp-tailed sparrow Ammodramus caudacutus (Aves: Passeriformes) Molecular Ecology Resources 8: 113-115. Click for .pdf and corrected primer table

Chan YL, Hill CE, Maldonado JE & Fleischer RC (2006) Evolution and conservation of tidal marsh vertebrates: molecular approaches. Studies in Avian Biology 32: 54-75 Click for .pdf and lit cited
Hill CE, Copenhaver KA, Gangler RK, Whaley JA (2005) Does light intensity influence song output by Northern Mockingbirds? Chat 69: 61-67. Click for .pdf
Hill CE and Post W (2005) Extra-pair paternity in Seaside Sparrows. Journal of Field Ornithology 76: 119-126. Click for .pdf
Crowe MC and Hill CE (2006) Setting the stage for good group dynamics in semester-long projects in the Sciences. Journal of College Science Teaching 35: 32-35 Hoekstra HE,
Hoekstra JM, Berrigan DM, Hoang A, Vigneri SN, Hill CE, Beerli P & Kingsolver JG (2001) Strength and tempo of directional selection in the wild. Proceedings of the National Academy of Science of the USA 98: 9157-9160. Click for .pdf
Kingsolver JG, Hoekstra HE, Hoekstra JM, Berrigan D, Vigneri SN, Hill CE, Hoang A, Gilbert P & Beerli P (2001) The strength of phenotypic selection in natural populations. American Naturalist 157: 245-261 .pdf
Hess CM, Gasper J, Hoekstra HE, Hill C , and Edwards SV, 2000. MHC Class II Pseudogene and Genomic Signature of a 32-kb Cosmid in the House Finch (Carpodacus mexicanus ). Genome Research 10: 613-623 .pdf
Beecher MD, Campbell SE, Burt JM, Hill CE, Nordby JC, 2000. Song type matching between neighboring song sparrows. Animal Behaviour 59:21-27. .pdf
Hill CE, Campbell SE, Nordby JC, Burt JM, Beecher MD, 1999. Song sharing in two populations of song sparrows (Melospiza melodia). Behavioral Ecology and Sociobiology 46:341-349. .pdf
Kroodsma DE, Byers BE, Halkin SL, Hill C , Minis D, Bolsinger JR, Dawson J-A, Donelan E, Farrington J, Gill F, Houlihan P, Innes D, Keller G, Macaulay L, Marantz CA, Ortiz J, Stoddard PK, Wilda K, 1999. Geographic variation of black-capped chickadee songs and singing behavior in North America. Auk 116:387-402.
Beecher MD, Nordby JC, Campbell SE, Burt JM, Hill CE , O'Loghlen AL, 1997. What is the function of song learning in songbirds? In: Perspectives in Ethology, Vol. 12: Communication (Owings DH, Beecher MD, Thompson NS, eds). New York: Plenum Press; 77-97.
Milling TC, Rowe MP, Cockerel BL, Dellinger TA, Gailes JB & Hill CE. 1997. Population densities of northern saw-whet owls (Aegolius acadicus) in degraded boreal forests of the southern Appalachians. In: JR Duncan, DH Johnson and TH Nicholls, Eds. Biology and Conservation of Owls of the Northern Hemisphere. United States Department of Agriculture, Forest Service, North Central Forest Experiment Station. General Technical Report NC-190.Winnipeg, Manitoba, Canada pp. 272-285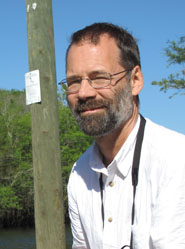 Chris Hill
Behavioral Ecology and Population Genetics of Birds
BA (1987) Massachusetts
M.S. (1995) Eastern Kentucky
Ph.D. (1999) Washington
Mailing Address:
Biology Department
Coastal Carolina University
P.O. Box 261954
Conway, SC 29528

Shipping Address (UPS etc.)
Science Building Rm. 221
109 Chanticleer Dr., East
Conway, SC 29526

Tel: (843) 349-2567
Fax: (843) 349-2201
E-mail:
chill@coastal.edu