Hinduism Goes to the Movies
Dr. Ronald S. Green - Coastal Carolina University
Dramatic films with overt Hindu themes (excluding bio-flicks, documentaries, etc.)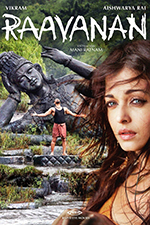 Raavan (Raavanan) (directed by Mani Ratnam, India, Tamil, 2010 drama)
Raavanan is a 2010 Indian Tamil epic adventure film co written, co produced, and directed by Mani Ratnam. The film features Vikram, Aishwarya Rai and Prithviraj in the lead roles, with a supporting cast led by Karthik, Prabhu and Priyamani. Wikipedia
---
Raajneeti (directed by Prakash Jha, India/Hindi, 2010 drama)
Raajneeti was first denied a certificate by the censor board of India for their thought that the lead character played by Katrina Kaif is inspired fully or partially from the Congress Party's chief Sonia Gandhi and Rashtriya Janata Dal's chief Rabri Devi. Director Prakash Jha dismissed this allegation, saying his only inspiration was Mahabharata, an epic from ancient India.
---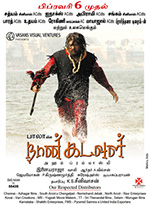 Naan Kadavul (English title: I am God, directed byBala, India/Tamil, 2009, drama)
Naan Kadavul (English: I am God) is a 2009 Indian Tamil-language art film co-written and directed by Bala. The film is based on the Tamil novel Yezhaam Ulagam by Jeyamohan, who also penned the dialogues for the film. The film features Arya as Shiva, an Agorhi sadhu who has realized his identity as Brahman. Pooja portrays Hamsavalli, a blind singer forced into servitude. While tackling a series subject, the film has many comedic elements.
---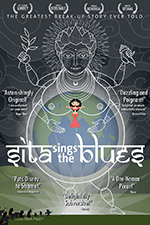 Sita Sings the Blues(directed by Nina Paley, USA, 2008)&nbsp drama
A beautifully animated musical film that retells the story of Ram and Sita from the Ramayana in view of the director's own breakup with an unfaithful husband while in India. Accordingly, Ram is protrayed in a negative light.
---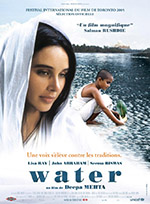 Water(directed by Deepa Mehta ,Canada, 2005, drama)
Set in 1938, the film explores the lives of widows at an ashram in Varanasi, India. The film is also the third and final instalment of Mehta's Elements trilogy. It was preceded by Fire (1996) and Earth (1998). Author Bapsi Sidhwa wrote the 2006 novel based upon the film, Water: A Novel, published by Milkweed Press. Sidhwa's earlier novel, Cracking India was the basis for Earth, the second film in the trilogy. Water is a dark introspect into the tales of rural Indian widows in the 1940s and covers controversial subjects such as misogyny and ostracism. The film premiered at the 2005 Toronto International Film Festival, where it was honoured with the Opening Night Gala, and was released across Canada in November of that year. It was first released in India on 9 March 2007. -Wikipedia
---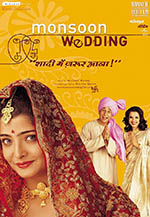 Monsoon Wedding (directed by Mira Nair, USA, 2008, comedy/drama)
Depicts complictaions during a traditional Punjabi Hindu wedding in Delhi. Writer Sabrina Dhawan wrote the first draft of the screenplay in a week while she was at Columbia University's MFA film program. Monsoon Wedding earned just above $30 million at the box office, won the Golden Lion award, and received a Golden Globe Award nomination.
---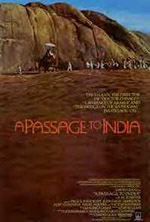 A Passage to India(directed by David Lean, USA, 1984, drama)
Based on an award-winning 1924 novel of the same name by E.M. Forster, this was David Lean final film. During a trip to the fictitious Marabar Caves (modeled on the Barabar Caves of Bihar) depicting devas in tantic positions, a rich British woman panics, thinking her Indian guide is showing her pornography. She subsuquently has him arrested.
---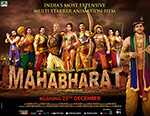 Mahabharat (Amaan Khan, India, Hindi language, 2013, drama)
A computer animated adaptation of the Mahabaratmade as a TV series in India. The series received mixed reviews.
---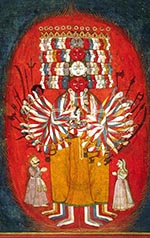 Bhagvad Gita (G. V. Iyer, India, Sanskrit, 1993, drama)
Winner of India's National Film Award for Best Feature Film in 1993,the film is based on the Bhagavad Gita.
Part 1 on YouTube at https://www.youtube.com/watch?v=cq9GUmXH2MI
Part 2 on YouTube at https://www.youtube.com/watch?v=fRpeMDGhp_A
---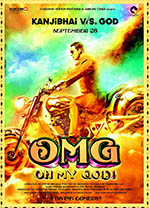 OMG - Oh My God (directed by Umesh Shukla, India, 2012, comedy)
Kanji Lalji Mehta (Paresh Rawal) is a middle-class atheist Hindu who owns a shop of Hindu idols and antiques in Mumbai. He is cursed by Siddheshwar Maharaj when he stopped his son from playing dahi handi. A low-intensity earthquake hits the city, and Kanji's shop is the only shop that is destroyed. The film has won the award for Best Adapted Screenplay in 60th National Film Awards.
The movie generated a lot of controversy over the depictions of prominent Hindu gods and Indian spiritual traditions. Jalandhar State Mahila Congress Vice President Nimisha Mehta lodged a complaint against the lead actors, Paresh Rawal and Akshay Kumar, and the producers of the film, for hurting religious sentiments of Hindus. The notice asked them to delete objectionable scenes and dialogues. Akshay Kumar was given police protection, after this incident.
---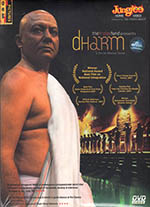 Dharm (Bhavna Talwar, India, Hindi language, 2007, drama)
Mostly shot in Varanas the story is about Pandit Chaturvedi (Pankaj Kapoor), a highly revered and learned Brahmin priest. A baby is abandoned by a woman and brought to his house by his daughter. He agrees to adopt the child due to requests from his wife (Supriya Pathak). Life takes a turn when the boy's mother returns and the family finds out that the boy is Muslim.
Winner of the Nargis Dutt Award for Best Feature Film on National Integration at the 2007 National Film Awards.
Watch Dharm Part 1 at https://www.youtube.com/watch?v=08drS7cecpk
Watch Dharm Part 2 at https://www.youtube.com/watch?v=8L8FkcxcAvU
---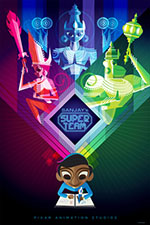 Sanjay's Super Team (Sanjay Patel, USA, 2015, animation)
A computer-animated short film (7 minutes) produced by Pixar Animation Studios. It was nominated for an Annie Award and for the Academy Award for Best Animated Short Film. A fantasy film wherein Vishnu, Durga, and Hanuman act as superheros.
---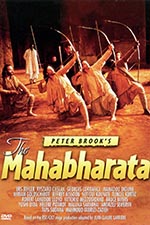 Peter Brook's The Mahabharata (Peter Brooks, Belgium / Australia / U.S.A. / Sweden / Portugal / Norway / Netherlands / Japan / Ireland / Iceland / Finland / Denmark / U.K. / France - in English - 1989, drama
Adapts the story of the war between the Pandavas and the Kauravas, perhaps for an English audience. In 1990, the film won the award for Performing Arts of the International Emmy Awards and the Audience Award for Best Feature at the São Paulo International Film Festival.
Watch Peter Brook's The Mahabharata on YouTube at https://www.youtube.com/watch?v=yhqkRGISQr8
---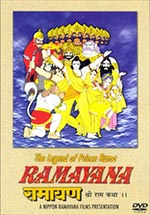 Ramayana: The Legend of Prince Rama (directed by Yugo Sako and Ram Mohan, Japan and India, 1992, animation)
This film was made as a part of the 40th anniversary of India-Japan diplomatic relations and was worked on by teams from both countries. It was released in the United States in a different, further localised English dub with narration by James Earl Jones and additional music by Alan Howarth as The Prince of Light: The Legend of Ramayana in 2001.
Watch Ramayana: The Legend of Prince Rama on YouTube at https://www.youtube.com/watch?v=jBFSFKAT_Jc
---
Tales of Lord Siva (parts 1 and 2, Renju Ramesh, India, Hindi language, English dubbed, 2008, animation)
Watch Tales of Lord Siva 1 on YouTube at https://www.youtube.com/watch?v=xnF1Cf49KCk
Watch Tales of Lord Siva 2 on YouTube at https://www.youtube.com/watch?v=wjkGdZDx4Nk
---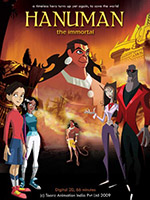 Hanuman the Immortal ( Suresh E. C and Anil Kumar AP, India, 2010, animation)
Rock Shah the modern day incarnation of Ravan, along with his aide Suroopa and a cranky scientist Vishwa plans to harness the vast volcanic power to unleash it upon the earth on the Night of Lights. Hanuman, proceeds to earth to help the chosen savior 'Kabir' from the evil forces of Rock Shah.
---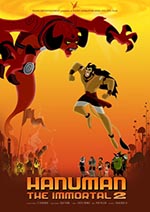 Hanuman the Immortal - II ( Prakasan U.K., India, 2011, animation by Prosenjit Ganguly)
Hanuman the Immortal II is a 66 minute 2D animated film. The project was worked upon by a team of 13 members for a period of 120 days for "Toonz Animation" to be shown on Cartoon Network. It is a story of a little girl named Bindi who accidently falls into a mysterious forest called "Vanarvan". Vanarvan is a forest in which Hanuman and other vanars reside. It is an imaginary story that revolves around Hanuman, Bindi and other fictitious characters.
Winner of the Best Animated Frames [BAF] Awards of the Federation of Indian Chambers of Commerce and Industry [FICCI].
---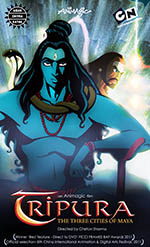 Tripura- The Three Cities Of Maya: Shiva Becomes Pashupati (directed by Chetan Sharma, India, 2010 animation made for TV)
Tripura, meaning three cities, was constructed by the great Asura architect Mayasura. They were great cities of prosperity, power and dominance over the world, but due to their impious nature, Maya's cities were destroyed by god Tripurantaka. Tripurantaka is a manifestation of Shiva. In this aspect, Shiva is depicted with four arms wielding a bow and arrow, but different from the Pinakapani murti.
From IMDB: After the death of their king Taraka at the hands of the devas, the asuras flee their kingdoms and spend years in hiding. Determined to provide a safe haven for them, the great asura architect Maya draws on his vast powers of sorcery to build three magnificent airborne cities, named Tripura, each to be ruled over by one of Taraka's three sons. Fuelling the asuric ambitions of the 3 young princes of Tripura, Brahma the Creator grants them a boon of indestructibility, as the cities can only be destroyed by the one and only Lord Shiva ,the Destroyer. Soon enough the asura kings begin craving greater and greater power. Unknown to Maya, they plan a secret invasion of Devlok, the kingdom of the devas. Now Indra, king of the devas, faces a formidable challenge -- defeating an enemy who is protected by the Gods themselves!
---
Devi Putrudu (Kodi Ramakrishna, India, Telugu, 2001, fantasy
The movie begins with a voice explaining the submersion of Dwaraka village in the sea because of a huge tsunami, then jumps to 5000 years ahead and starts with Krishna (Venkatesh), doing pranks in Bombay and earn living with petty thefts. Satyavathi (Anjala Zaveri) is a foreign returned girl and she comes to know that her elder sister Karuna (Soundarya) got married to an archaeologist when she visits the archaeological site of Dwaraka.
See the full movie in Hindi on YouTube at https://www.youtube.com/watch?v=jWPgFbZIzvc
---
Anji (called Diler in Hindi dub. Directed by Kodi Ramakrishna, India, Telugu 2004, fantasy thriller)
The Atma lingam of Shiva in the Himalayas possesses enormous divine powers. Once every 72 years, Akasa Ganga from sky flows into the Atma lingam. Those who drink the holy water of the Akasa Ganga become younger for eternity and gain supernatural powers. The Akasa Ganga is slated to flow to earth again in 2004. Fortune hunters foolishly steal the Atma lingum and awaken the wrath of Shiva.
Anji was the first Telugu film to win the National Award for Best Special Effects, which it well deserved.
---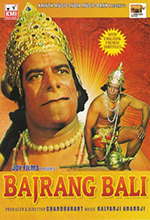 Bajrangbali (directed by Chandrakant, India, Hindi language, 1976, fantasy)
Dara Singh, professional wrestler and actor, plays the title lead role of Hanuman.
Bhagwan Shri Bajrangbali has had super-natural powers at a very young age which includes swallowing the sun, lifting mountains, just to name a few. Bajrangbali has always regarded the skies and universe as his playground and could leap and fly around at will. Non could be super-natural as Bajrangbali, he could make himself small and large, if needed, burn down a whole colony all at once. Bajrangbali makes it his duty to serve Bhagwan Shri Ram all days in his life. He will make this comes to light when Ram's wife, Devi Maa Sita, has been kidnapped by Shivbakht Ravan, and is being held captive in far off Lanka. He displays this as he locates Sitaji, kills Akshaye, Ravan's son, mocks Ravan, and even sets Lanka afire, before returning back to Ramji, and tells him that he has 30 days to get Sita back before Ravan forcibly marries her. Watch as events unfold what Bajrangbali will do to make Ram locates his wife, Sita, how he will save Ram's brother, Laxman from dieing and a good result at the end.
---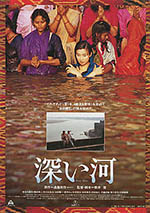 Deep River (original Japanese title: Fukai Kawa, directed by Kei Kumai, Japan, 1995, drama)
A group of Japanese tourist go to India, each driven by Kama, Artha, Dharma and Moksha respectively. There they encounter Indian spiritualism that move them in various ways.
Based on a novel by award-winning literary writer Endō Shūsaku (1923 – 1996)
Chosen as Japan's official submission to the 68th Academy Awards for Best Foreign Language Film, but did not manage to receive a nomination.
Also includes Toshiro Mifune.
---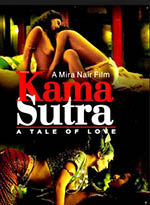 Kama Sutra: A Tale of Love (Mira Nair, United Kingdom, 1996, romance)
Set in 16th century India, this movie depicts the story of two girls who were raised together, though they came from different social classes. Shot in English with an all-Indian cast, this drama of one woman's spiritual journey is set in the 16th century. Maya (Indira Varma), a servant girl, grows up as a friend of princess Tara (Sarita Choudhury), who is to marry the prince (Naveen Andrews). But the night of the wedding, Maya betrays her friend and seduces him. Banished from court, she finds refuge with Rasa Devi (Rekha) who teaches the "Kama Sutra," a manual of lessons in love. This wise woman believes that sexuality can be a wellspring of spiritual unfolding. She teaches Maya about intimacy, pleasure, play, and self-empowerment. (http://www.spiritualityandpractice.com/films/reviews/view/4764/kama-sutra-a-tale-of-love)
---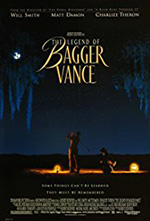 The Legend of Bagger Vance (Robert Redford, USA, 2000, sports drama)
The plot is loosely based on the Hindu sacred text the Bhagavad Gita, where the Warrior/Hero Arjuna (R. Junuh) refuses to fight. The god Krishna appears as Bhagavan (Bagger Vance) to help him to follow his path as the warrior and hero that he was meant to be. This relationship has been explained by Steven J. Rosen in his book Gita on the Green. Criticism was leveled against the film by several African American commentators and reviewers for employing the "magical negro" stereotype.
---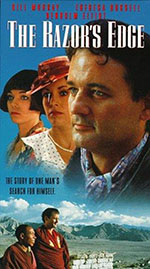 The Razor's Edge (directed by John Byrum, USA, 1984, drama)
This is the 1984 remake of the 1946 film starring Tyrone Power (which might be better), both adaptations of W. Somerset Maugham's 1944 novel. The book's epigraph is dramatized as advice from the Katha Upanishad: "The path to salvation is narrow and as difficult to walk as a razor's edge." The main character's (Larry) life is changed when he hears a passage from the Upanishads. Although Larry eventually goes to a Tibetan temple to study, the messages are vaguely Hindu, even if the overall story is Orientalist.
---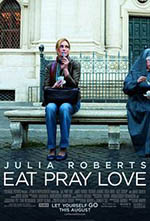 Eat Pray Love (directed byRyan Murphy, USA, 2010, drama)
The Hindu American Foundation calls the movie "Hindu friendly, through not explicitly Hindu". "Much of the movie focused on meditation, devotion, inward reflection and finding the divine within -- all integral aspects of Hindu philosophy and practice," said HAF Executive Council Member, Sachi Lamb. "But I only remember hearing the word 'Hindu' once, and I don't think it was very clear that the techniques Gilbert embraced on her spiritual journey were Hindu despite her being at an obviously Hindu ashram meeting Hindu spiritual guides."
---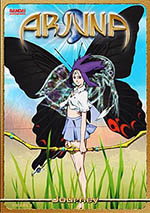 Earth Maiden Arjuna (Japanse title: Chikyū Shōjo Arujuna, directed by Shōji Kawamori, Japan, 2001, animation)
The story opens with Juna telling her boyfriend Tokio she feels too cramped in the city, and deciding to take a trip to the Sea of Japan. On the drive, they get in an accident caused by an invisible worm-like creature and Juna dies. As her spirit leaves her body, Juna sees the dying Earth. The planet's suffering is visualized by worm-like creatures similar to the one that caused the accident that killed her. Known as the Raaja, they vary in size, from microscopic bacteria to those entwining the planet. A young boy named Chris (Krishna) appears before Juna and offers to save her life if she will help the planet. She reluctantly agrees and is resurrected with the powers of Arjuna from the Bhagavad Gita.
---