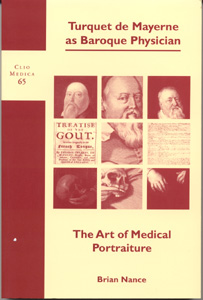 For fifty years, Theodore Turquet de Mayerne served as a royal physician in France and then in England. Historians have long recognized him as a brilliant practitioner and chemical Galenist, but this book is the first major study of his remarkable Latin casebooks, the Ephemerides morborum (Diaries of Disease). Interpreting the casebooks in the light of Mayerne's own theoretical writings and of contemporaries such as Jean Fernel, the book is a cultural history of medical perception. It shows how Mayerne crafted a medical portrait for his patients, moving from evaluation to therapeutics, and focuses on those moments when theory and practice merged to form an integrated medical outlook that served as the basis for action. Convinced that his innovations had the sanction of Galen and Hippocrates, Mayerne added chemical principles to humoral medicine, a greater empiricism to a more rational approach to medicine, and an interventionist therapeutics to a more cautious view of therapy, thus forging a complex synthesis that bore certain structural similarities to baroque art and culture.
Turquet de Mayerne as Baroque Physician: The Art of Medical Portraiture. Amsterdam and New York: Editions Rodopi, 2001. Wellcome Series in the History of Medicine (available Online at Ingenta Select)
Research
My current project is a short book on Renaissance Medical Narratives. Drawn from a new style of medical casebook that appeared in the mid-sixteenth century, the Medical Observations (Observationes medicae), these narratives show how sick people from all levels of society fared, and how they made medical decisions based on the rich social, religious, cultural, and intellectual traditions of their communities.
Forthcoming
Between Text and Patient:
The Medical Enterprise in Medieval & Early Modern Europe
A collection of essays in honor of Michael R. McVaugh
Florence Eliza Glaze and Brian K. Nance, Editors
Sismel's Micrologus' Library, (Firenze, Edizione de Galluzzo, 2011)
Recent Publications
"Wondrous Experience as Text: Valleriola and the Observationes medicinales" in Elizabeth Furdell, Editor, Textual Healing: Essays on Medieval and Early Modern Medicine (Leiden: E. J. Brill, 2005), 101-117.
Book
More. . .